Environmental Stations of the Cross at St Columbkille's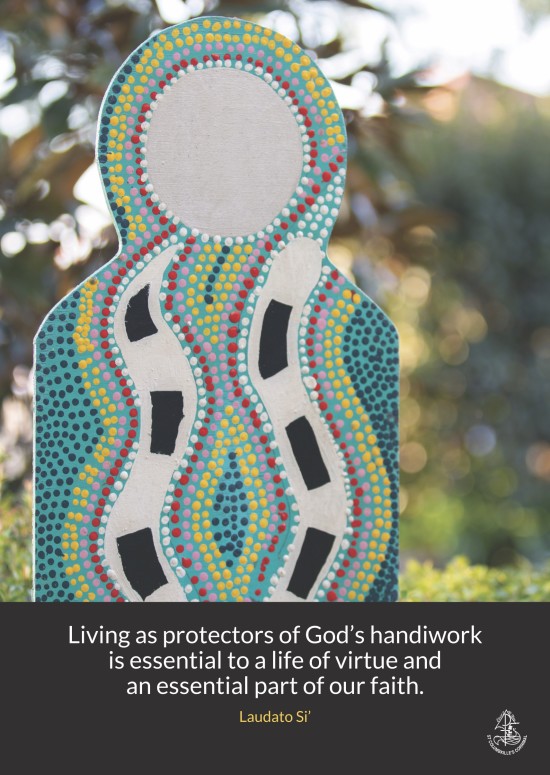 Our St Columbkille's school grounds have taken on a facelift in the form of beautiful images and ecological quotes to inspire prayer and reflection on caring for creation.
Like the 14 traditional Stations of the Cross, the 'SCC Environmental Stations of the Cross' are a journey we all can take to reflect on our responsibilities as stewards of the planet as well as celebrating, in wonder and awe, the greatness of God's Creation. Through this reflective journey, we also come to realise God's great love for us as part of God's Creation.
Presently, there are 12 stations with the intention of including another two being the school's Vision and Mission statements which are in the process of being renewed by school staff. These statements will also reflect our relationship to God the Creator.
The images chosen have been beautifully photographed by CEDoW Graphic Design and Publications Officer, Elle Holder-Keeping, and include both the parish environment and the school environment. They are the school's personal and identifiable interpretation of connection with God's creation.
The phrases are taken directly from Pope Francis' Laudato Si' and where required, adapted to connect with the school community's commitment to care for our 'common home'.
The SCC Environmental Stations of the Cross are placed, in a deliberate order and formation, on the fencing of the school yard. This intentional order of placement as well as area of placement is to encourage the school and Parish community to share in partnership, the celebration of creation and our collective responsibilities to it.
Find out more about how our students and school community care for the environment.
See all 12 of our SCC Environmental Stations of the Cross below, and click on them for further detail...
SCC Environmental Stations of the Cross